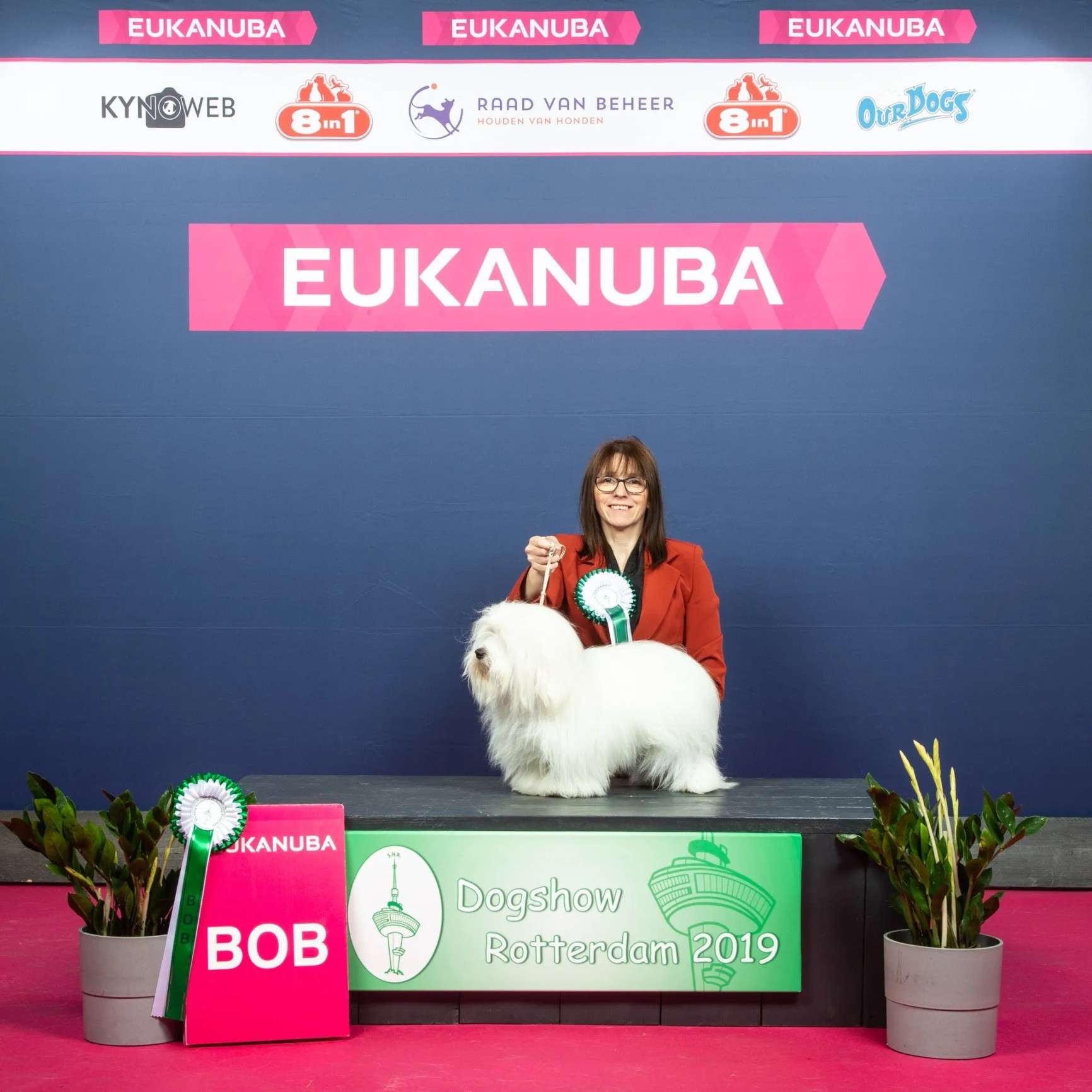 Sire
Cotonbrie Montewhite
Date of Birth
6 August 2018
Eva
Eva is a beautiful little girl, full of fun. A hit in the show ring, culminating in the award of both a French Junior Champion title in 2019 and Best Bitch at CRUFTS 2020!
Montewhite Eviva proved what a lovely Coton de Tulear she was when she was awarded the title of French Junior Champion by the Societe Centrale Canine (French Kennel Club) in 2019 after a fantastic performance at the Championnat de France in Paris in June 2019 - the most prestigious dog show in all of France.
Over the two days, Eva, came 1st in the Junior Bitch Class and then went on to be awarded the title of Best Junior at the Coton Special at the Grand Prix de France Championship Show in Paris (1st June) under the renowned FCI judge, Petru Muntean. After this, Eva then made the final short cut of 6 for the Best Junior in the Toy Group.
This was followed a day later, when Eva was again given 1st Place in the Junior Bitch Class at France's most prestigious international show, the Championnat de France (2nd June) in Paris, under French judge, Annie Veyrier!
And Eva reached further heights abroad when at just over 12 months of age, she won Best of Breed at the 47th Rotterdam International Championship Show in the Netherlands in August 2019!
In particular, Eva has also proved very popular among judges here in the UK. In less than a year, Eva has been received Best of Breed accolades (Bournemouth Championship Show, August 2019), as well as Best Bitch (South Wales Kennel Association Championship Show, October 2019) and of course at CRUFTS2020 - confirming her place as one of the top show prospects in the UK.
HEALTH TESTS
Eva is fully health tested!
Patella test: clear/0/0 - 1st August 2019
BVA Clear eye test - 4th July 2020
CDDY/CDPA : Carrier - 20th March 2019
CMR2 : Clear - 20th March 2019
DM : Clear - 20th March 2019
HUU : Clear - 20th March 2019
NA / BNAt: Clear - 20th March 2019
PH : Clear - 20th March 2019
prcd-PRA : Clear - 20th March 2019
vWD (Type I) : Clear - 20th March 2019
Crufts
A very feminine and well balanced bitch who impressed with her overall balance and outline. Well shaped head with dark round eyes, strong underjaw and correct slight stop. nicely arched neck, good rib cage and correct low tailset. Really comes into her own on the move with her positive attitude and great outline.
South Wales Kennel Association (SWKA)
OB 1 Miles' Montewhite Eviva (Imp Pol) Fr Jun Ch. I loved the gorgeous outline and coat texture of this bitch. She has the most beautiful expression, with dark and round eyes, triangular head and high set ears. She moved around with ease and very clean front and rear. She was also presented in beautiful coat condition and her coat is of ideal texture. Best Bitch.
Bournemouth Canine Association
'Gorgeous feminine headed bitch who oozed breed type. She has perfect muzzle length and skull ratio's. Darkest of eyes with black eye rims. Big healthy black nose and black lips. She has a good neck with strong topline with the desired rise over the loin, correct depth of brisket , well ribbed. Her tailset is low and she carried her tail perfectly. Coat of fabulous cotton texture, and white as fresh as snow. She moves so stylish with a smart free action. She was handled and presented to perfection. Best Bitch and BOB. Loved her'.
Bournemouth Canine Association - 10 August 2019 to 12 August 2019